[espro-slider id=110]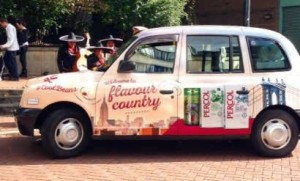 Percol Coffee Co, the British company which claims to have launched the first Fairtrade certified ground coffee, has introduced a national "Cool Beans" campaign to support a new pack design and brand relaunch.
Activity has included Percol-branded London taxis roaming the capital. Consumers who spot them, snap them and upload the images to Twitter with the #CoolBeans hashtag can claim free sample packs of coffee.
The relaunch has been backed with a nationwide sampling tour, radio advertising on Heart and a competition to win two £1,000 cash prizes through the Heart London website. Outdoor advertising, PR and integrated social media also supports the campaign.
The new packaging features a range of coffee bean characters, such as 'Lively Latino' 'Intense Italiano' and 'All Day Americano.' The characters showcase the beans' flavours and bring the brand to life for consumers.
Niomi Taylor, Marketing Manager of Percol Coffee Co, says: "Our new 'Cool Beans' campaign launches with a nationwide sampling tour to encourage trial, starting this month and touring the UK throughout 2016. Our team will be accompanied by a lively Mariachi band and our vintage '59 Chevy coffee bar, 'Percy', so consumers will be in for a real treat as we sample our range of coffees in style."