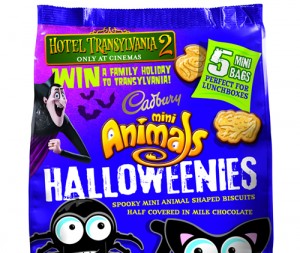 Hotel Transylvania 2, the Halloween animated comedy which opens on October 16th in the UK, has added Fruittella, Cadbury Biscuits and River Island as partners, joining Hotels.com and Subway.
The three new partners were recruited by integrated marketing agency Brand & Deliver; the two already on board had been recruited by Sony Pictures.
The five brand partners will run promotions that complement Sony's existing marketing campaigns for the film. A family audience will be targeted in major retailers through promotions on-pack and POS displays and across digital and social platforms.
Peter Taylor, Managing Director of Sony Pictures, says: "Hotel Transylvania 2 is a monster comedy adventure which will have families spellbound over the Halloween holidays. We're thrilled to work with these A-list brands to create fun and Dracula-packed promotions across multiple touchpoints."
Each partner will promote a 'spook-tacular' competition mechanism with prizes including the chance to win a family holiday to Transylvania, Sony electronics equipment and goody bags.
Hotel Transylvania 2 is the all-new animated monster comedy from Sony Pictures starring the voices of Adam Sandler, Andy Samberg and Selena Gomez. Taking place seven years after the first film, with the hotel now open to human guests, Dracula sets about training his grandson Dennis, who seems to be lacking in the vampire department, in a 'monster-in-training' boot camp.
Brand & Deliver is retained by a number of major studios and entertainment rights holders to negotiate film partnership campaigns. Rich Barnes, Head of Partnerships at Brand & Deliver, says: "This campaign brings together five high profile family brands with huge influence which will help propel Hotel Transylvania 2 to the top spot in cinemas over the October half term."