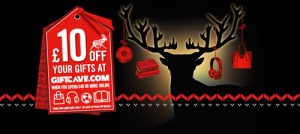 Carling has launched a Christmas on-pack promotion, with unique codes on more than 10 million promotional packs offering consumers £10 off purchases at GiftCave.com.
Each code can be used to get £10 off a transaction over £40, plus the online gift site will ship for free, an additional saving of £4.95.
Running across both the convenience and the multiple off-trade channels, mid and large packs of Carling, Carling British Cider and Carling Zest will include the codes. Consumers – who must be aged 18 or over – can enter the codes on the Giftcave.com website to redeem the offer.
To support the promotion and drive social engagement, Carling will be decorating promotional Carling lager cans with a range of 24 Christmas 'stereotype' characters, including 'The Mistletoe Lurker,' 'The Knitwear Ambassador,' and 'The King of the Pines.'
Consumers can take photos of friends and relatives that best fit each of the characters on the can, and then share these on Facebook and Twitter, using the hashtag #CarlingChristmasSnaps. Every week, the best photo entries will win a range of prizes.
Small can packs of Carling will receive a £5 Giftcave.com voucher which can be redeemed using Carling's recently announced new and enhanced iPint app.
The on-pack promotion will be supported by POS material, and will be in-market from October through to December 2015. Consumers can redeem the Giftcave.com codes from September through to April 30th 2016.
Jim Shearer, Carling brand director at Molson Coors, says: "Carling prides itself on being the brand that understands and delivers against key British moments that matter. By creating promotions that deliver added value for our customers and surprise and delight our consumers, we hope to drive long-term sustainable growth of the lager category.
Christmas is a key moment in our calendars and a time when families and friends come together to celebrate. We hope that our promotion will go some way to spreading some pre-Christmas cheer."
Michelle Henderson, CEO Handpicked Companies (which incorporates GiftCave), says: "We are delighted to partner with Carling on this exclusive promotion. The brands and audiences fit fantastically well together and we look forward to bringing value to customers and delivering a successful promotion for our respective businesses."