Opinion from Andrew Ryan, Director at Halo
When John Pemberton invented Coca-Cola in 1886, not even their catchy positioning of "Delicious! Refreshing! Exhilarating! Invigorating!" could persuade consumers to try it over all the other carbonated wonder tonics and elixirs already on the market.
So, to help increase sales his bookkeeper started giving away tickets for free tastes of Coke, but Pemberton chastised him for extravagance. Fast forward a few years when tycoon Asa Griggs Candler bought the company in 1888, he revisited the bookkeeper's idea, and distributed thousands of bits of paper like the ones above, and so the coupon as we know it was born.
By 1913, Coca-Cola had redeemed over 8.5 million free drink coupons.
Thankfully the humble coupon itself has made a smooth transition to the 21st century and the new dawn of digital coupons will soon be the norm. If you want to boost your sales and attract more consumers, couponing is still a solid marketing tool to use. Coupons can help you create a sense of urgency, reward loyal consumers and increase brand awareness.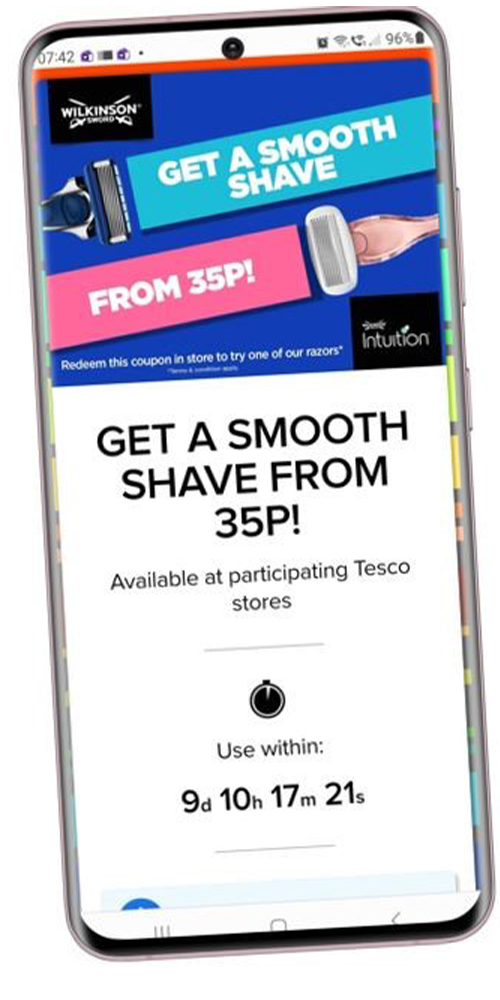 This is especially true in the cost-of-living crisis when consumers are even more value conscious. The tightening of consumer purse strings is placing an even greater demand on the need to deliver value where it matters. This is being born out from our findings across the UK, Europe, Africa and the US that there is a noticeable increase in response and uptake on any promotion that delivers real consumer value. Free and Save messages are currently outperforming all other mechanics.
However, unknown performance can place greater demands on budgets which is where Fixed Fee comes in to provide much needed cost certainty. Fixed Fee is perfect for when costs are variable and the final outcome is unknown. It allows a campaign to be budgeted for regardless of the final performance, protecting the variable costs under a one off completely covered​ Fixed Fee with the backing of re-insurance.
By combining the powerful mechanic of couponing with the cost certainty benefits of Fixed Fee, brands can better navigate these tough trading conditions.​
Why coupons?
Couponing creates a sense of urgency. When consumers see that a coupon has an expiration date, they are more likely to act fast and make a purchase before they miss out on a good deal.
Couponing appeals to the masses, everyone loves saving money, and couponing allows consumers to feel like they are getting more value for their money.
Couponing encourages repeat purchases. By offering coupons that can be redeemed on future purchases, you can increase consumer retention and loyalty. You can also use coupons to cross-sell or upsell other products or services that complement your main offer.
Couponing generates word-of-mouth. Social sharing. When consumers are happy with purchases, they're more likely to share their positive experiences with friends and family. You can also incentivize referrals by offering coupons to both the referrer and the referee.
Quick couponing checklist
Set clear goals and objectives for your coupon campaign. What do you want to achieve? Who do you want to target? How will you measure your success?
Choose the right type of coupon for your offer. There are different types of coupons, such as percentage off, £1 off, buy one get one free, free delivery. Choose the one that best suits your product or service and your target audience.
Tracking, ROI and first party data
Analyse and optimise your coupon campaign. You can monitor and evaluate the results of your coupon campaign regularly. You can use metrics such as redemption rate, conversion rate, average order value, consumer acquisition cost, consumer lifetime value. You can also collect feedback from your consumers to improve your offer and consumer experience.
Coupons can help you collect valuable consumer data and feedback. You can use coupons to ask consumers for their email addresses, phone numbers, or opinions. This can help you build your consumer database and improve your marketing strategies.
The humble coupon might not get the recognition it deserves, especially at awards events, but you clients will thank you for the direct impact it can have on driving trade.
Couponing is certainly not broken, far from it, but they might need fixing in which case we'd be delighted to help.