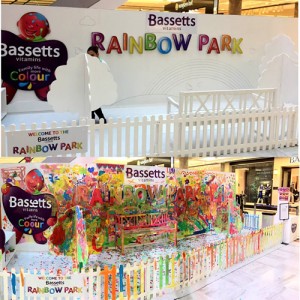 As part of a brand re-launch, Bassetts Vitamins is running an experiential campaign to give thousands of families the chance to get creative and hands-on with all sorts of paints and colours.
The activity, devised and delivered by the communications agency Bray Leino, plays out across roadshow activity and also online, tying Bassetts Vitamins' re-launched product range and its colourful new look and feel into the 'Family Life with More Colour' campaign.
The roadshow – The Rainbow Park – is a 3D blank canvas featuring trees, animals and other familiar objects with visitors adding their own splash of colour in what promises to be a fun and engaging experience.
The Rainbow Park roadshow will visit five major shopping centres across September, October and November, reaching up to 1.5m people, with 40,000 families participating directly in the experiential activity.
Sample giveaway material and post-roadshow comms will guide consumers to a new website, where they can access vouchers and content on a wide range of additional fun activities like soft play and swimming sessions.
The campaign  has been created for Bassetts by integrated agency Bray Leino.
Reach will be amplified through partnership activity, placing samples at over 200 swimming pools and soft play areas nationwide, plus a partnership with Mumsnet.
Skye Symes, Brand Manager at Bassetts Vitamins, says: "This campaign brings our new proposition to life in a way that we hope will resonate with our target audience. Bray Leino have developed and coordinated a strategy of multichannel activities around 'Family Life with More Colour', and we can't wait to meet families and see their reaction in the coming weeks. "
Kate Cox, CEO of Bray Leino, adds: "Mums choose healthcare brands because, beyond the obvious product benefits they offer, they share the values the brand stands for. Bassetts Vitamins understands the importance of fun family time, and our 'Family Life with More Colour' campaign communicates this through an interactive roadshow that will create lasting, meaningful connections between the brand, mums and their children."
The Bassetts brand is manufactured by Crediton-based Ernest Jackson, which has almost 200 years experience and in developing, manufacturing and marketing medicated confectionery and vitamin pastilles and which is now owned by Mondelēz International.