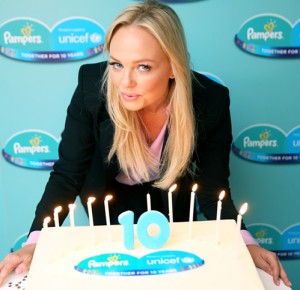 Pampers and UNICEF have marked the landmark 10th year of their on-pack vaccine partnership by announcing the elimination of maternal and newborn tetanus (MNT) in 17 countries*.
Supported by celebrity mum of two Emma Bunton, the '1 pack = 1 vaccine' campaign will run until end of December 2015 with special marked packs available across a selection of Pampers nappies and wipes. For every pack purchased and each video viewed or shared, the brand will donate the cost of one vaccine to help UNICEF continue its fight against tetanus.
Since the Pampers UNICEF partnership began in 2006, the brand's funding has already helped to eliminate maternal and newborn tetanus in 17 countries, with an estimated 500,000 newborn babies saved and a vaccine reaching a mother and her baby every second. However there are still 21 countries where the disease remains a threat.
Through the continuation of its simple "1 pack = 1 life-saving vaccine" campaign, Pampers funding is supporting vaccination activities in 20 of these countries and UNICEF's work with the many partners involved in the elimination effort.
John Drake, Head of Convenience at P&G, says: "The sad truth is that maternal and newborn tetanus is still claiming lives even though it is easily preventable with a vaccine, which is why it is so important that together with UNICEF, we continue in our joint efforts to eliminate the disease everywhere. By simply buying packs of Pampers with the UNICEF logo or by engaging with the campaign's online content, UK parents can make a genuine difference. We're urging retailers to support the campaign by stocking up on special UNICEF packs."
Emma Bunton, Pampers' ambassador, comments: "Over the last 10 years this programme has helped save the lives of 500,000 newborns around the world; something I believe is an incredible achievement and something that parents in the UK should feel proud to have contributed to."
UNICEF is the world's leading organisation for children, promoting the rights and wellbeing of every child. Together with its partners, it works in 190 countries and territories to translate that commitment into practical action, focusing special effort on reaching the most vulnerable and excluded children, to the benefit of all children, everywhere.
Unicef UK raises funds to protect children in danger, transform their lives and build a safer world for tomorrow's children.