New research investigating UK household shoppers' plans for Black Friday and Christmas 2019 has been launched today by leading retail and shopper marketing agency, Savvy. The findings indicate that UK retailers should expect a record Black Friday this year and that shoppers plan to cut back on non-essential Christmas expenditure.
Alastair Lockhart, Insight Director at Savvy, said: "The scale of Black Friday has increased further this year. The majority of retailers kicked off their sale activity last Friday and we expect the Black Friday event will run well beyond the 29th, through Cyber Monday and beyond. As well as promotions on particular products, this year's sale has been characterised by blanket discounting across full ranges in some cases and heavy use of discount codes."
In terms of broader Christmas spending Lockhart added: "We expect that the Black Friday uplift in sales will steal from full price retail sales. Indeed, our research indicates that 55 percent of UK shoppers are planning specifically to buy Christmas gift during the Black Friday sale. While shoppers plan to maintain their spending in many areas, the findings also revealed that 30 percent are planning to cut their Christmas spending budgets on more distant friends, relatives and acquaintances."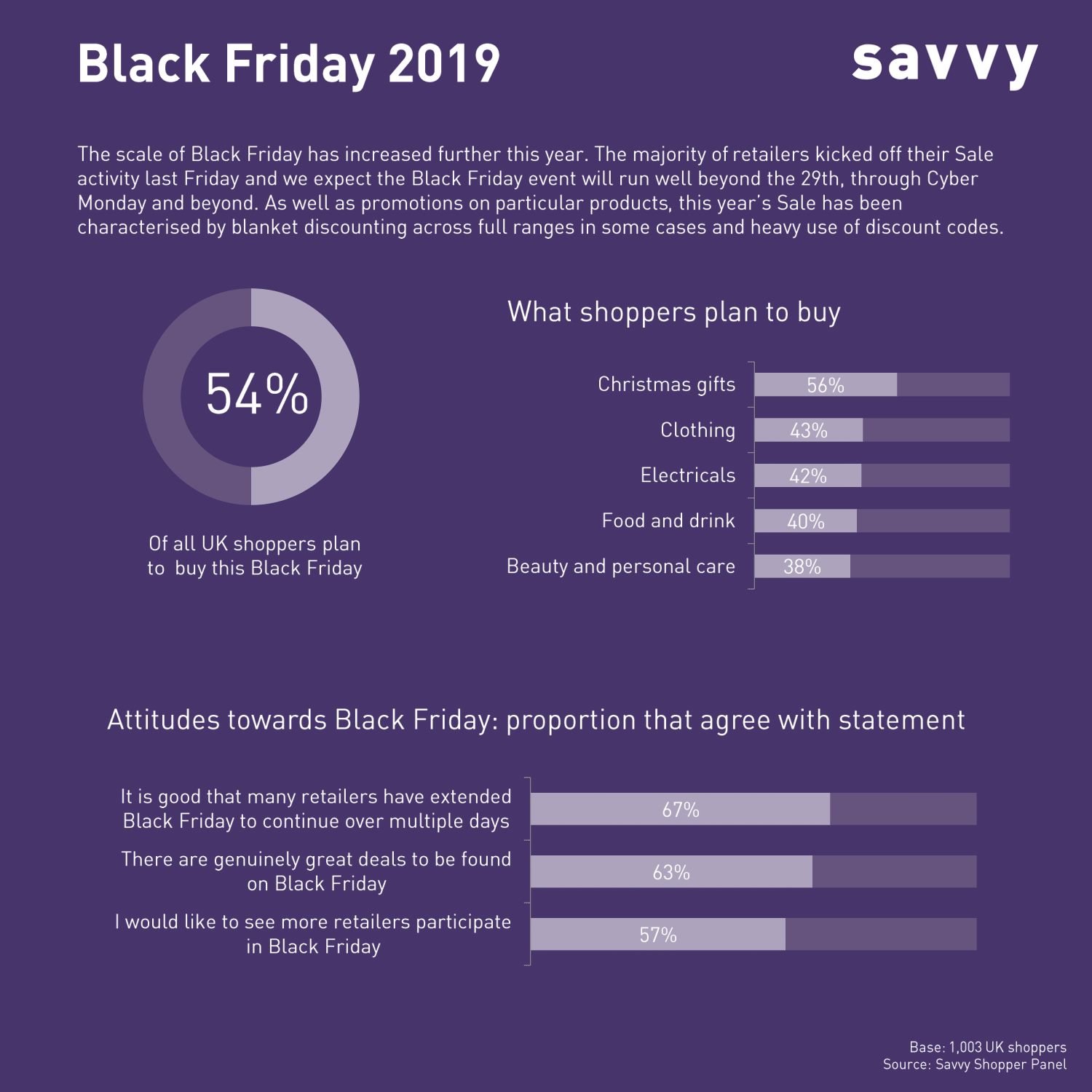 Record Black Friday participation:
55 percent of UK shoppers say they are likely to shop this year's Black Friday event. This is similar to the number who bought in 2018. However, in 2016 we found that only 33 percent reported having bought anything in the Black Friday sale.
A substantial 75 percent of 18-35 year olds are planning to shop the Black Friday sale event
Around one-third of us plan to spend more this year.
Attitudes towards Black Friday:
Most retailers started their Black Friday sales last week, with plans to run the event over an extended period. 67 percent of Black Friday shoppers agree that it is good that retailers have extended Black Friday over multiple days.
63 percent believe there are genuinely great deals to be found on Black Friday.
57 percent would like to see more retailers participate in Black Friday.
54 percent believe Black Friday is the biggest sale event of the year.
Categories shoppers are planning to buy on Black Friday include:
Christmas gifts      55 percent
Clothing                 43 percent
Electricals             42 percent
Food and drink      40 percent
Health and beauty 38 percent
Footwear               37 percent
Homewares           29 percent
Alcoholic drinks    27 percent
Kitchenware          26 percent
Furniture               18 percent
DIY/tools               18 percent
Key research findings from the shoppers who do plan to celebrate Christmas (88 percent of UK shoppers):
67 percent say their buying decisions are swayed by discounts and offers.
49 percent say they will hold off buying presents to see if there are discounts closer to Christmas.
However, 40 percent expect they will end up buying the majority of their Christmas presents at full price.
Online is set to outperform this Christmas, maintaining the trend of recent years:
70 percent say that online shopping means that they will visit high streets and shopping centres less when buying Christmas presents this year.
44 percent expect they will order more Christmas presents using their smartphones this year.
Food spending under the shopper spotlight:
48 percent of shoppers expect they will cutback how much they will spend on food this Christmas.
56 percent expect they will spend more at discounters like Aldi and Lidl this Christmas.
There are a few areas where shoppers plan to increase expenditure this year:
17 percent of plan to spend more on presents for close family. Although the same proportion are planning to cut back.
15 percent expect they'll increase their budget on alcoholic drinks. Treats and snacks expenditure is set to increase among 13 percent of shoppers.
Areas of Christmas cutbacks are more extensive:
36 percent of us plan to cut back on Christmas clothing.
36 percent say that they plan to curb spending on going out to pubs, bars and restaurants.
Many shoppers seem likely to reuse decorations this year, with 36 percent cutting back here.
30 percent of Christmas shoppers intend to cut spending on more distant 'other friends and family.'
Lockhart, concludes: "Terrible weather, Brexit uncertainty and a General Election are not great news for retailers as we enter the final few weeks of Christmas shopping. That said, we do not expect retail sales to collapse this Christmas. Black Friday and other sale activity will help stimulate demand and, while shoppers are reviewing certain areas of non-core Christmas spending, overall spending looks set to hold up. Growth opportunities however, will be thin on the ground and will mainly be enjoyed by online retailers. High street players have major challenges to attract footfall and encourage shoppers to spend. Profit is another major watch-out. Heavy discounting will encourage spending and help drive volume, but blanket discounting before Christmas will erode margins at a time when retailers are supposed to make the vast majority of their profit."
The full findings can be viewed here: Black Friday 2019 charts