Mark Davies, Managing Director of Whistl, shares how doordrop coupon marketing can be used to engage directly with customers  and drive behaviour change
A lot has been written lately on the woes of digital media as it reels from one scandal to another. While certainly the scary levels of ad fraud and the lack of transparency covering both data usage, privacy concerns and performance are now widely accepted online, marketing spend does still continue to grow. Even the eye-watering cuts in digital budgets by companies like P&G with little or no impact on sales has failed to stop spend gravitating towards the tech giants. While the P&Gs and Unilevers of this world have been leading laudable campaigns to try to clean up the murky world of digital media a recent global study by Alix Partners concluded that "Despite aggressive media transparency drives from some of the biggest players in the space, some 60% of FMCG brands' digital marketing spend is wasted – resulting in annual losses of close to $50bn for the industry."
These performance issues and the current (GDPR) and future (ePrivacy) regulatory change are slowly beginning to force a reappraisal of the marketing mix with traditional channels experiencing something of a renaissance. As Peter Field, one of the most respected commentators on marketing effectiveness has said "We are being over-hyped and over-sold on a uniquely digital future. We need to get real and take a more evidence-based view of what really drives effectiveness." As a practitioner of direct marketing I particularly like the 'get real' in that statement. Real marketing driving real results is what we have focused on in doordrops and since GDPR the number of returning brands who have been surprised and delighted by the performance of a channel they haven't considered in a decade has grown and grown.
Spend on doordrop media has grown by 4.5% (source: DMA/AA/WARC) since 2015 – the only print channel to have evidenced an increase in marketing investment. As a GDPR compliant channel by design – all the data we use for targeting is anonymised – we are well placed to drive new customer acquisition in this new world. And for FMCG brands they are starting to wake up to the role this sometimes forgotten channel can play in the modern shopper marketing journey. Whether it takes the form of targeted couponing or in-home sampling of your product (what better way to get real!) the power of this channel to engage directly with consumers and drive behaviour change, store traffic and sales is shining through. An in-home sampling campaign for Yushoi when it launched in Tesco and Morrisons drove a 20% uplift in sales in the targeted stores and won that brand and its agency a Gold Award for Shopper Marketing at the IPM Awards.
Meanwhile doordrops have not stood still waiting and hoping for the pendulum to swing back. Firstly the insight available to help plan our channel is better than ever. The launch of JICMail in 2018 provides marketers and agencies the same level of gold standard insight that BARB supplies for TV and Route supplies for Out of Home. Secondly targeting has come on in leaps and bounds with the provision of more and more anonymised data sets to help refine our audience selection and the geographical catchments that our brands require. Earlier this year a brand new set of grocery store catchments was launched meaning we can now define with a new level of science the specific geography for 26,219 shops country-wide. Attribution has been another key battleground. Teaching the marketing world that offline can drive online and that people don't wake up and type brands they've never heard of into search engines has moved people away from the lazy reliance on last click attribution that has filled the coffers of the digital giants. A laser focus on the return on investment has provided bountiful evidence that targeted couponing through its significant media reach can deliver penetration gains over the long term. For example Dunnhumby has demonstrated to one of our clients that those who redeem a coupon are 12 times more likely to repeat purchase.
All of this has driven our growth but there are still too many agencies and brands who whether through inertia or ignorance are not even considering the role that doordrops could play in meeting their marketing objectives. We have had to recognise that the skills and craft in this channel have rusted through the digital obsession. So our latest innovation in marketing automation seeks to address this. We have launched www.leafletdrop.co.uk – an online platform which enables the user to plan and buy a doordrop campaign in minutes with no specialist knowledge required. Simply type in the postcode of the store you are looking to support, build out the catchment based on drivetime or radius, overlay your target market and choose your schedule based on the budget you have available as per the example for the 12,000 households around my local Asda store below.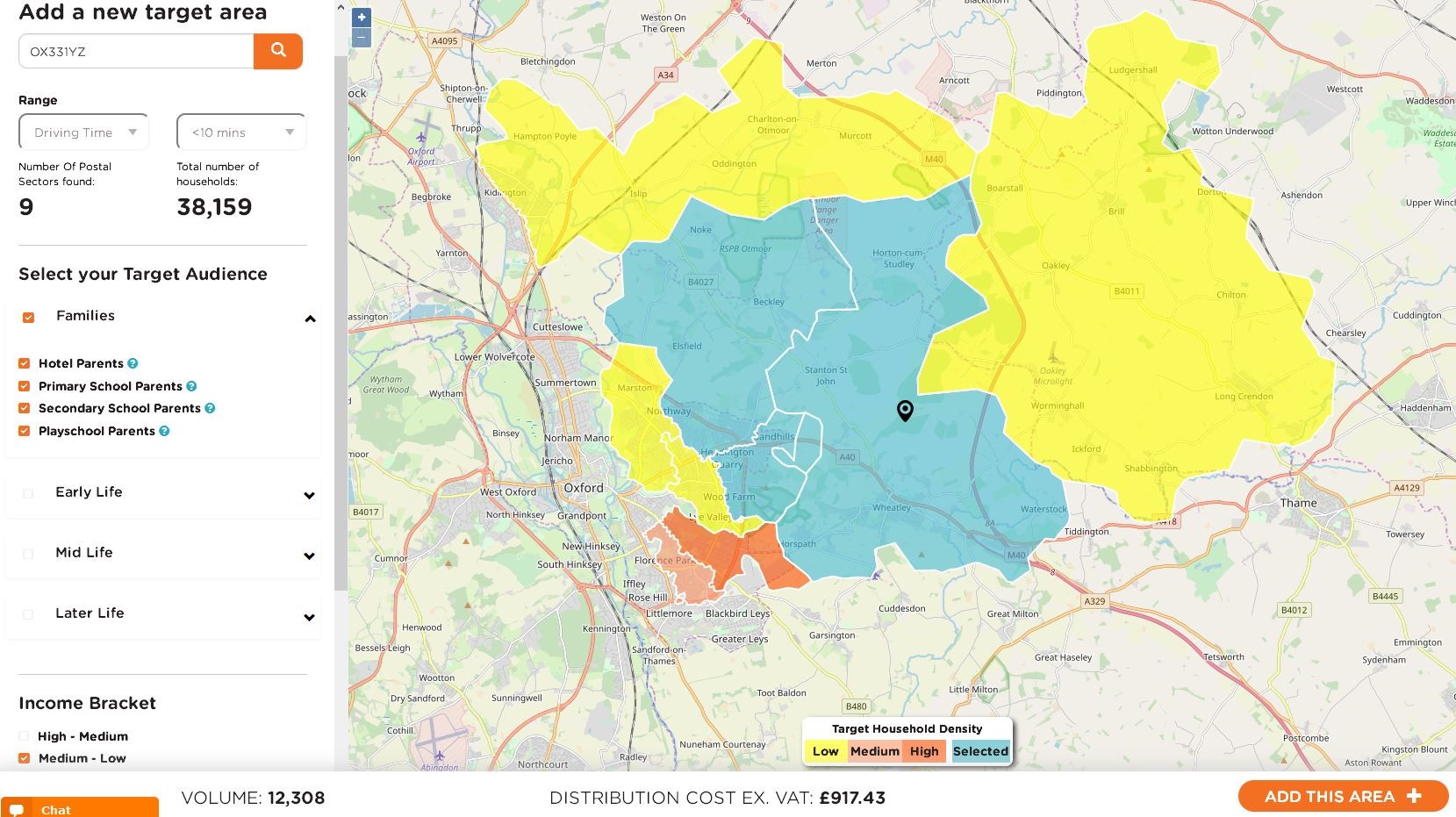 Then you can choose to book distribution only or buy print through the platform after uploading your print-ready creative, schedule the week of distribution, check out and pay. And if you have more complex requirements or would like to support multiple stores then you can contact us directly and we can provide the targeting to upload into the system rather than selecting the geography yourself. Targeted couponing made easy in short.
To find out more please contact Mark Davies on mark.davies@whistl.co.uk or simply visit www.leafletdrop.co.uk to try it for yourself.