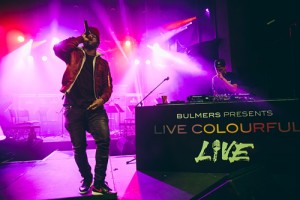 Cider brand Bulmers has amplified its Bulmers #LiveColourful LIVE campaign with a special one-off performance of a newly-commissioned grime-symphonic-soul track from grime legend Lethal Bizzle, Hollywood composer David Arnold and singer Sinead Harnett at One Mayfair earlier this week.
Lethal Bizzle is an award-winning rap star; David Arnold is a composer for film and TV who has worked on five Bond movies; and Sinead Harnett is a rising soul star.
The trio joined forces for a pioneering new project fusing their respective genres together to introduce music fans to something new – Bulmers' #LiveColourful LIVE campaign encourages people to embrace the new and diverse.
Fans were able to register at the Bulmers' website for the chance to win tickets to an exclusive performance of the new work on Tuesday October 13th at London venue 1 Mayfair, with the track available as a free download on the same day.