YouGov, a market research and data analytics firm, and Mando-Connect, a specialist Partnerships and Rewards Agency, have commissioned the largest ever study into what the British think of loyalty. The study questions over 270,000 people on what they want from loyalty programmes, who engages the most, and the impact that offering a programme has on brands.
The ground-breaking study reveals exclusive and actionable insights which are highly useful to the promotions industry, helping brands and agencies understand how best to reward people and with what kinds of rewards for maximum impact.
We have highlighted three key insights from the study, and shown what the promotions industry can learn.
1. Brits love loyalty programmes and rewards, but women and older age groups engage more
The British are huge fans of loyalty. 77% of GB adults are members of at least one programme and 59% think all brands should offer one. There are significant variations by age and gender. For example, 85% of women are members compared to 70% of men. The research also suggests that programmes are failing to connect to younger people, with only 61% of 18 to 24-year-olds currently belonging, a figure that falls to 54% among men in this age group.
What Promotions can learn: As with loyalty, promotions need to recognise variations in motivation and behaviour by demographic and design mechanics accordingly.  For example, as with loyalty, Mando's 40 years of promotional response data clearly shows that there are significant variations in the effectiveness of different promotional mechanics by age. Respondents over 55 are most motivated by money off coupons and money back activities, with an online route to entry. 18-24s in contrast are more motivated by instant gratification win mechanics.
2. People want rewards from partner brands
The study reveals that 55% of programme members want partner rewards. This insight holds true in every sector, except for hotels (where loyalty members value both partner and the brand's own rewards equally at 59%) and beauty salons (62% want partner rewards vs 67% who want the brand's own).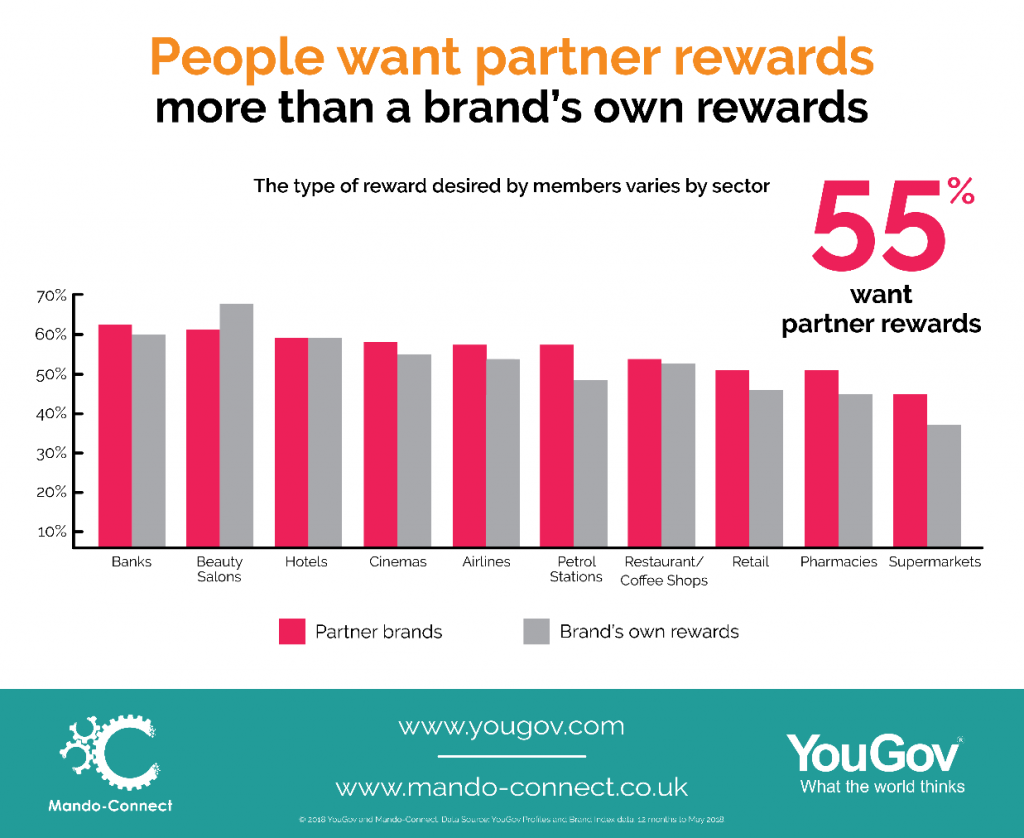 What Promotions can learn: Smart use of partner rewards in prize pools can significantly increase participation and engagement levels. Mando's data clearly shows that promotions incorporating partner rewards are highly motivating to audiences across Europe. For example, McDonald's Monopoly is an excellent example of a promotion which uses partner rewards, as well as the brand's own, to create an exceptionally impactful and exciting prize pool. McDonald's customers can win food from McDonald's as well as broad range of partner rewards – from Now TV passes to stylish Mini Coopers. This promotion has run for many years and continues to go from strength to strength; the impact and appeal of the partner rewards is a core component of its continued success.
3. Most people want to save up for higher value rewards
Our study with YouGov identified three types of loyalty reward behaviours. The most popular reward behaviour is to collect points "The Collectors". This group save up their points, aiming for a higher value reward (41%). They are followed by "The Regulars" who redeem when they want to (27%) and "The Early Redeemers" who use up their points at the earliest opportunity to claim lower value rewards (20%).
What Promotions can learn: Brands need to understand whether their target audience are collectors or early redeemers and design prize pools with higher value or lower value prizes to match. For example, collector schemes have always been a very effective way to engage older audiences; this mechanic is popular in many sectors aiming to drive repeat purchase or frequency of visit. Our data suggests that collector mechanics could also have strong appeal to a younger demographic; there are many "collectors" under 25 in the UK. To get it right, brands need to profile whether their target audience are primarily collectors or early redeemers, and design mechanics to match.
An opportunity for the Promotions Industry?
The research also demonstrates a lack of membership of loyalty programmes in 3 sectors: beauty (3%), banks (4%) and cinemas (6%), despite heavy investment in programmes in these sectors. This data could suggest that there is a big opportunity for promotions to take the lead in these sectors – engaging consumers in ways that loyalty programmes can't.
To learn more about the research highlights, please click here: www.mando-connect.co.uk/what-the-british-think-of-loyalty-programmes. Or download the full whitepaper here.
Joshua Kennedy is Marketing Manager at Mando. Mando (part of WPP) develop promotional rewards and incentives, which are born from science. Mando utilises data grounded with reasoning, combined with insight to help you deliver exactly what your consumers want, with a solution that is right for your brand. Using unique data and expertise they provide complete solutions including promotional risk management, prepaid incentives and brand partnerships, which continuously help create some of the world's most memorable marketing campaigns.