Charlie Hills, MD & Head of Strategy at Mando-Connect, shares the latest insights from brand new research with YouGov, including the types of rewards Brits really want.
In 2020 Brits expectations have never been higher; they demand better and better from brands in every area and rewards are no exception. We wanted to find out what's really going on in 2020, so we have worked with YouGov for a second time, to understand what Brits want from loyalty programmes and rewards now, the types of rewards they want and who they want them from.
We proudly partnered with the IPM to launch the research and White Paper at Loyalty Dynamics on March 3rd. Whilst the research focused on rewards within loyalty programmes, there are some big insights applicable to all types of rewards and incentives – for promotions, loyalty programmes, employee incentives programmes and more.
You can find and download the whole white paper at www.mando-connect.co.uk but here are some highlights from the research.
Partner rewards are more appealing than a brand's own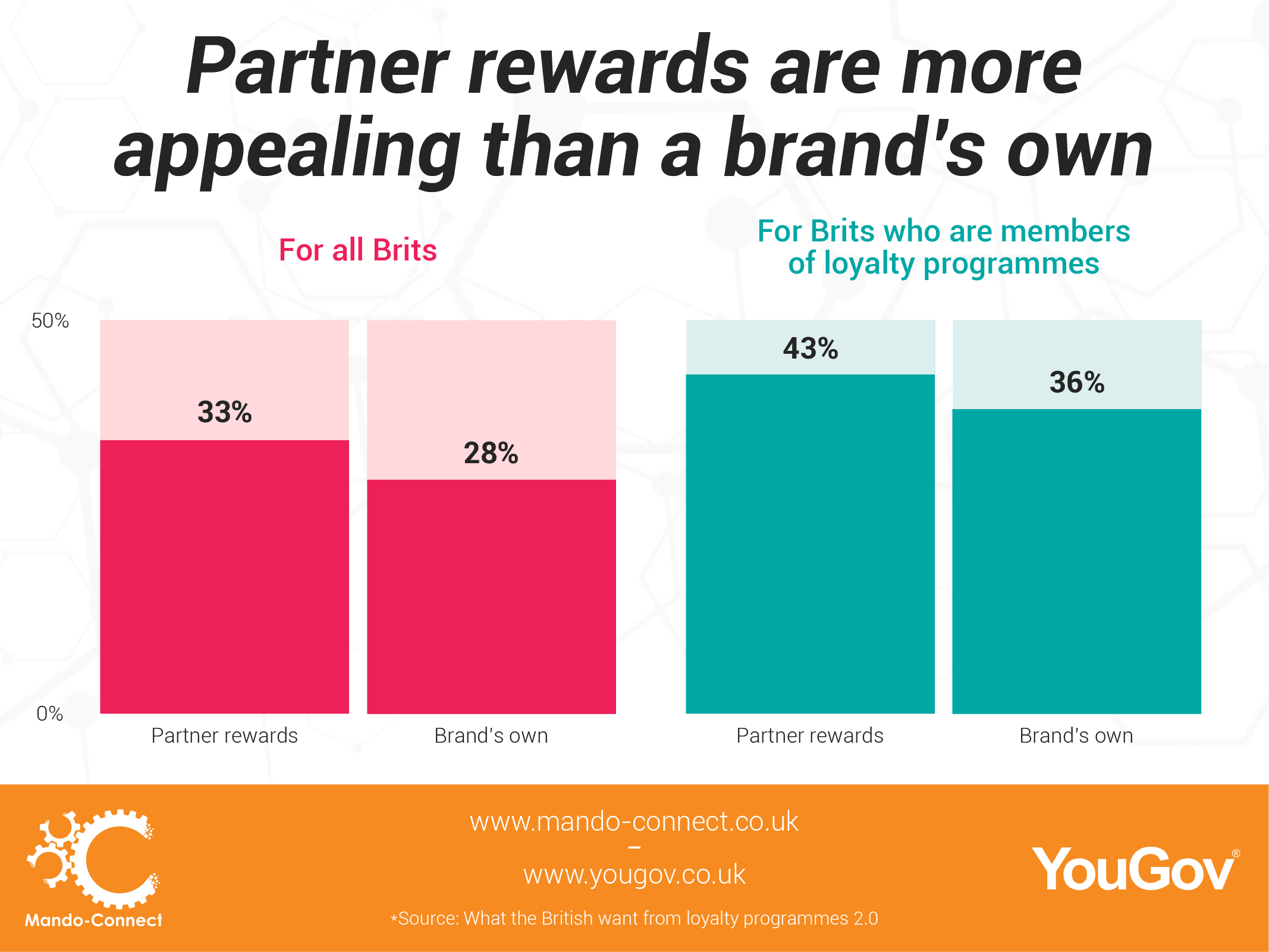 36% of Brits want rewards from the brand offering them the reward. But 42% of Brits want Brands to offer rewards from other brands. Partner rewards are 1.2x more appealing than a brand's own.
Partner Rewards can add real value to your customer experience by:
Increasing the relevance of the reward. E.g. 48% of British Gas customers are interested in holidays. British Gas cannot offer holidays, so they work with specialist partner brands such as Haven and Forest Holidays to offer holidays as rewards.
Adding value by offering higher-value rewards at a lower cost. E.g. Tesco Clubcard's partner programme offers members 3 x the value if they redeem their points with partners. Partners as diverse as Goldsmiths, Butlins and Denby offer members 3 x the value of the points.
Adding appeal and variety by tapping into new passions. For example, Vodafone worked with brand partners to deliver a 12 days of Christmas campaign in 2019. Members were offered a different partner reward every day for 12 days in December from brands from Sockshop, to Majestic Wine, to Thortons to Thortful.
Adding excitement by offering aspirational, supercharged prizes and experiences that a brand alone cannot. E.g. VOXI created an outstanding partner experience on Snapchat. VOXI customers got the chance to win a week's stay in a luxury Love Island style villa in Mallorca, plus return business class flights
Brits want rewards to offer value and treats, more than anything
The dominant emotion in the reward experience is savviness. People want to feel the high that they get when they've got a great deal when they know they've saved money. 83% want rewards to save them money. Brits are a nation of deal hunters. 68% make sure they always use all the sales, coupons and deals available when they shop.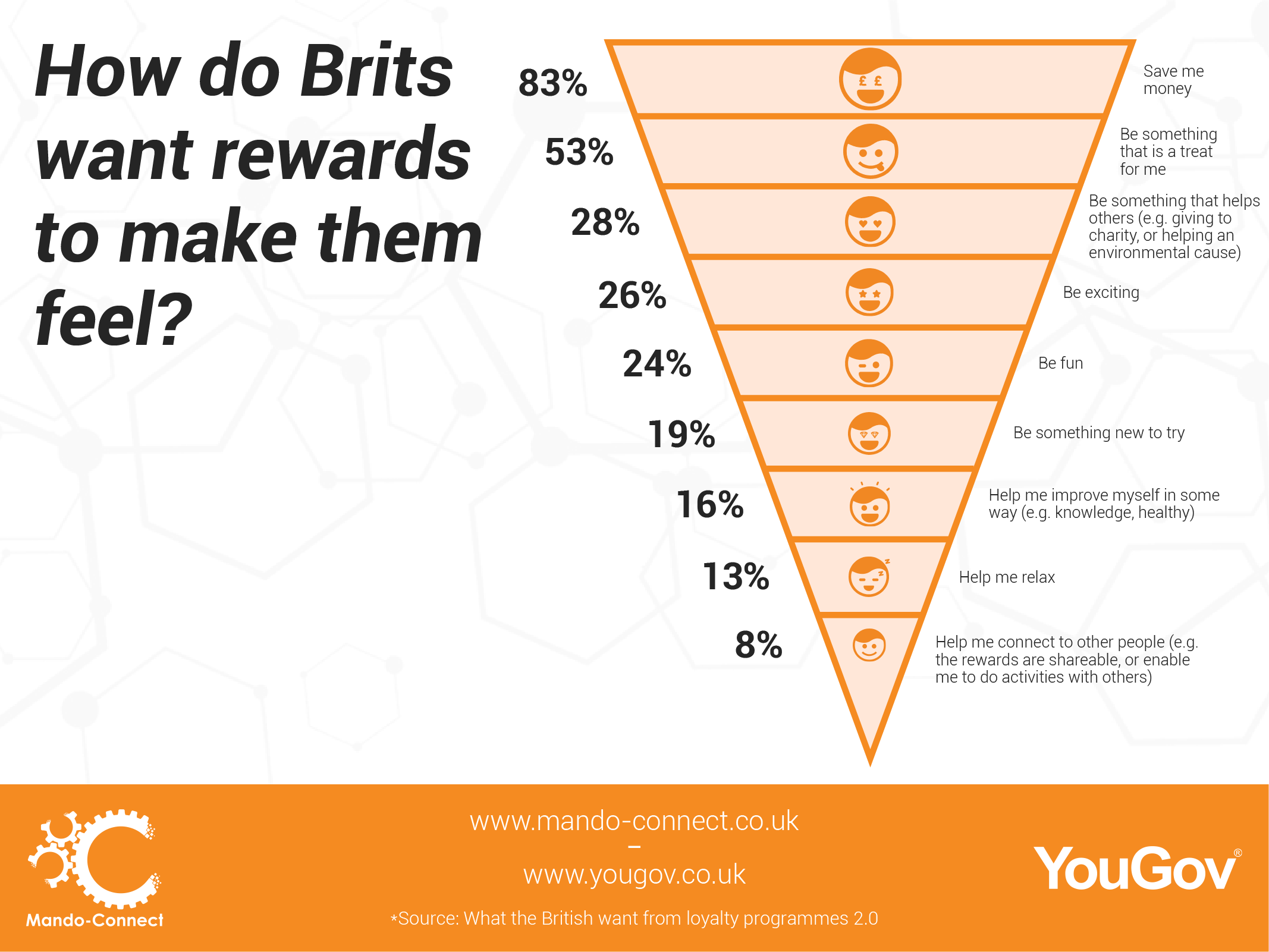 Next comes spoiling.  53% want rewards to be a treat for them. Treats are defined as "an event or item that is out of the ordinary and gives great pleasure." They are special, they are an extra, they are something you wouldn't buy yourself. They are an emotional high. And they can be big or small.
Then comes purpose and altruism. 28% of people want rewards to be something that helps others through supporting good causes or helping the environment. Food waste apps like Karma and Too Good to Go are doing good things here. Users of Karma are motivated to use the app with emotional language that suggest they are 'doing good' like 'number of items rescued'. The app even indicates how many kg of food you have saved from going to waste and rewards users with badges all linked to social purpose e.g.  'Climate cadet.
Next comes excitement (26%), fun (24%), discovery of new things to try (19%), self-improvement (16%), relaxing (13%) and connecting to others (8%).
Discounts and free experiences are more motivating than other reward mechanics
When asked which reward mechanics are the main reason they would sign up to loyalty programmes, Brits have clear views on which are the most effective reward mechanics. The Number One type is discounts and offers. 82.3% of Brits cited these. Next comes free products, services and experiences (35.8%). Then comes insight. 17.2% of Brits wanted to be the first to know about promotions, discounts and news. Then comes service (9.7%) and in final position the chance to be part of a brand's community (2.5%).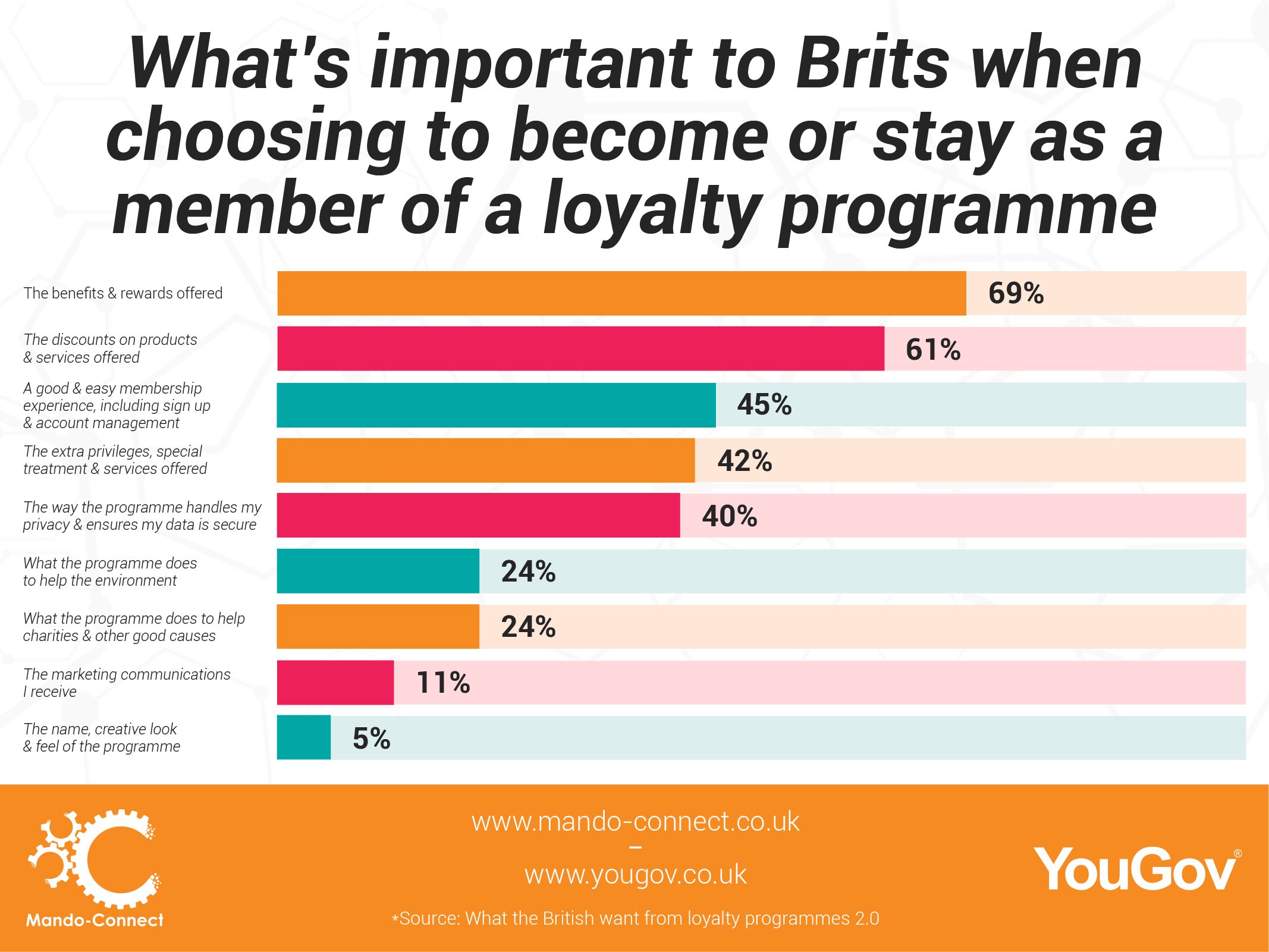 | | |
| --- | --- |
| In-store/online discounts and offers | 82.26% |
| To benefit from free products/services/experiences | 35.78% |
| To be among the first to know about the promotions/discounts/news from the brand (e.g., early access) | 17.22% |
| To receive better services (e.g. 24/7 support, faster delivery, etc.) | 9.64% |
| To be part of the community | 3.30% |
The white paper also covers the types of brands that Brits want you to partner with, which loyalty mechanics are most effective (are points really dead?) and who is engaging and who isn't. All at a national level and by sector too.
Check it out at www.mando-connect for more great insights and to unlock the insights that can help you get your rewards strategy right in 2020 and beyond.
To find out more about the white paper and Mando-connect, get in touch with Charlie Hills at charlie.hills@mando-connect.co.uk