Georgie Adams, Senior Account Executive at eventeem, shares how promotional and event staff can be matched to brands' projects to ensure effective campaign delivery.
Recruitment is undoubtedly a huge part of what we do at eventeem, and a great deal of emphasis is put on sourcing only the best promotional and event staff for our talent pool. However, it's how we match the staff we recruit with the right jobs that really makes an impact on our clients' projects.
From the outset of a new project, we always keep the end goal in mind. Every decision we make along the way impacts on the final outcome and we want to ensure that the impact we make on project staffing is a positive one.
Before we even start on the staffing, there are a number of factors we aim to clarify with our clients, to ensure we pick staff that not only reflect the brand but will be able to deliver on the desired outcomes;
What brand they are representing
The target demographic for the brand and the project
Where they will be working
What the role involves
Information on the project goals, targets and desired outcomes
We then keep this information in front of mind when shortlisting and interviewing staff for the available roles.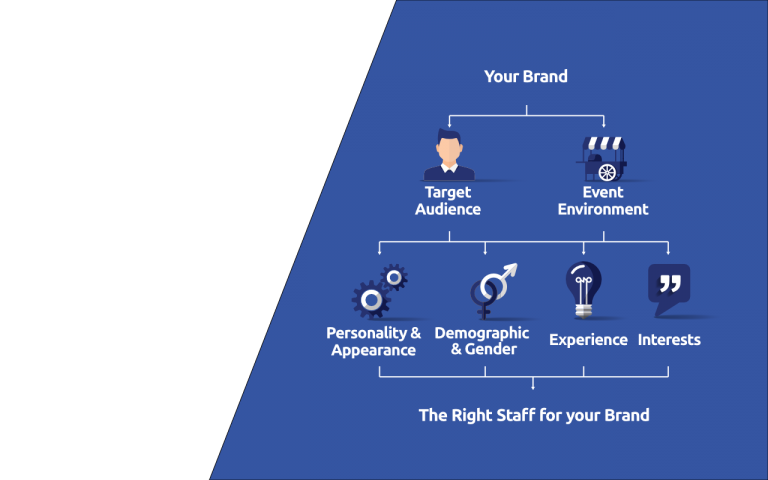 Once we're good to go, we advertise the job to our talent pool, and staff that are located within a 50-mile radius can apply for the job through our staffing portal, as well as by contacting us directly. Instead of working on a first come first served basis and getting the roles booked as quickly as possible, we like to allow time for as many staff to apply as possible, so that we have more options and can, therefore, make the best possible decision.
From the staff that have applied, we compare their profiles with the client brief as described above, in order to shortlist suitable people. Their profile is where we can see their previous experience from working with us or other agencies, their location, photos and notes from our previous communications with them. We also are able to see opinions on their first impression by looking back at their initial Skype interview notes. As we know, first impressions count, especially as their first job with you may be the first time you are meeting the staff.
When we've shortlisted staff that we consider being a good fit, we like to have a telephone call before confirming them for the role, even if they have worked for us before. We want to ensure that our promotional staff have a clear passion for the product and have a full understanding of what the job involves before committing.
Once booked our job doesn't end there; we have consistent communication with our staff from the moment we book them on the job through to the final day of the campaign or event. We have a close relationship with our staff, which reflects in their work for our clients.
One size doesn't always fit all
Whilst many of our staff are versatile and capable of working a variety of jobs, we understand that different environments often call for different personalities. At eventeem our staff are split into two main groups;
Promotional Staff – Our brand ambassadors cover a wide range of activities such as leafleting, sampling, experiential campaigns plus many more.
Our promotional staff love engaging with people, and they aren't afraid to approach and instigate conversations with consumers. They are bubbly and bold and aim to put a smile on peoples faces following a successful interaction. They are the Queens & Kings of communication, able to communicate product and brand information with finesse, achieving first-class results for our clients.
Corporate – Our corporate event staff always work to an impeccable standard, knowing the importance of making a positive and lasting first impression on your event delegates. They are selected for being professional, well mannered, level headed and perfectly presented, enabling you to have full confidence in your front of house team.
If you would like to find out more about eventeem, get in touch with Georgie Adams at georgi@eventeem.co.uk